The Grupp Law Firm LLC offers estate planning, trust administration, and family office services from Jackson Hole, Wyoming. We are committed to seeing your family flourish now and in the future. We help families gift their wealth to the next generation for a multi-generational legacy.
Families are best served by personalized solutions that look at the unique dangers, opportunities, and strengths facing them now and in the future. We provide high level service with the warmth of a family-owned firm. Whether you are receiving tax planning, investment advice, or a family education strategy, your services will be integrated with your own unique goals.
Wyoming provides unique tax and estate planning benefits for families. To learn more, please download this short summary of Wyoming's advantages.
Our Values
Judgement
Using our expertise to build and transfer your family's wealth
Courtesy
Treating clients and 3rd parties with respect and acting with a servant's heart.
Diligence
Placing your family's flourishing as our highest priority.
Our Story
In 2005 Matthew Grupp established a trust and estate practice with the singular intent to put families first and to help families flourish. The firm's values have not changed since: providing full transparency, doing what is best for the family and individual, and upholding integrity in all processes and actions. The team at The Grupp Law Firm LLC has earned its clients' trust through exceptional client experiences. The practice has now evolved into a full service organization that also provides outsource options for high net worth and ultra high net worth families while keeping its focus on helping families flourish.
Our Process
Wealth is not just financial assets—it is wellbeing. The family's Wealth consists of the wellbeing of its family members, the family's activities, and its material goods. Building this Wealth together with you is our goal. Investing in all three forms of Wealth empowers families to leave a lasting legacy for future generations.
We call this shared process The Heroic Family Journey. The Heroic Family Journey is the family's experience of building its Wealth over time. As your guides on this Journey, we collaborate with your family by providing holistic estate planning, trust administration, and family office services. We emphasize the impact that any plan has on the family dynamic, and we engage the next generation with family governance & education services. To learn more about the "why" behind the Heroic Family Journey, click here for more information.
We are ready to start your Journey with you! Contact us to get in touch with an attorney.
The Heroic Family JourneyTM Process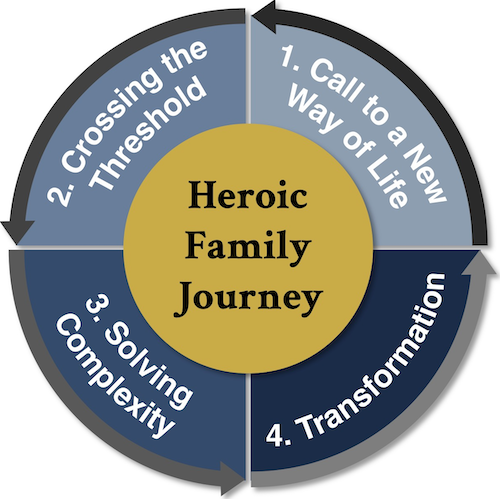 1. Call to a New Way of Life
We present a thorough professional evaluation of your estate and financial situation at the Base Camp Retreat.
2. Crossing the Threshold
We map and build your Legacy Plan, which integrates estate, financial, and family governance plans. You get to hear from our professionals a detailed explanation of the plan at the Ascent Meeting.
3. Solving Complexity
We implement your Legacy Plan and then gather for a signing ceremony at the Summit Meeting.
4. Transformation
We provide ongoing administration of your Legacy Plan, so that your family is empowered to flourish.