A New Era of Wealth
For many decades, family offices were private and unique to each family served. In the era of Wealth 3.0, we are seeing a broadening of services, an expanding professionalism, and proliferation of options for High-Net-Worth and Ultra-High-Net-Worth families. Best practices for family offices have emerged. These help wealthy families know what to look for from their family office.
At a Glance
More family office advisors are working to understand clients' deep needs and values.
Top talent is more accessible and in demand today than in the past.
A focus on family and family relationships is trending.
Families have access to a number of options.
What is a Family Office?
There are a few broad types of family offices. Below is a list of the most common types.
Single-Family Office is a company held by a family that is dedicated to managing a single family's wealth. Family offices are often designed to facilitate the growth and transfer of wealth across generations. Generally, a family would need at least $100M to operate one.
Multi-Family Office serves two or more families. The economy of scale allows families to pool resources in order to receive a broader suite of services and deeper bench of experts. However, many multi-family offices still retain a personalized approach to wealth management, as well as a "bespoke" feel. These services are often available to families with $25M or more.
Virtual Family Office does not occupy a particular building as in the past, but is a collaborative network of specialized professionals. This allows the family office to recruit the best expertise while keeping costs relatively low. Research from Family Office Exchange (FOX) indicates that many family offices now outsource some responsibilities to 3rd party service providers, creating what can be called a hybrid family office, combining some of the in-person rapport of a traditional family office while retaining some of the efficiencies of a virtual family office.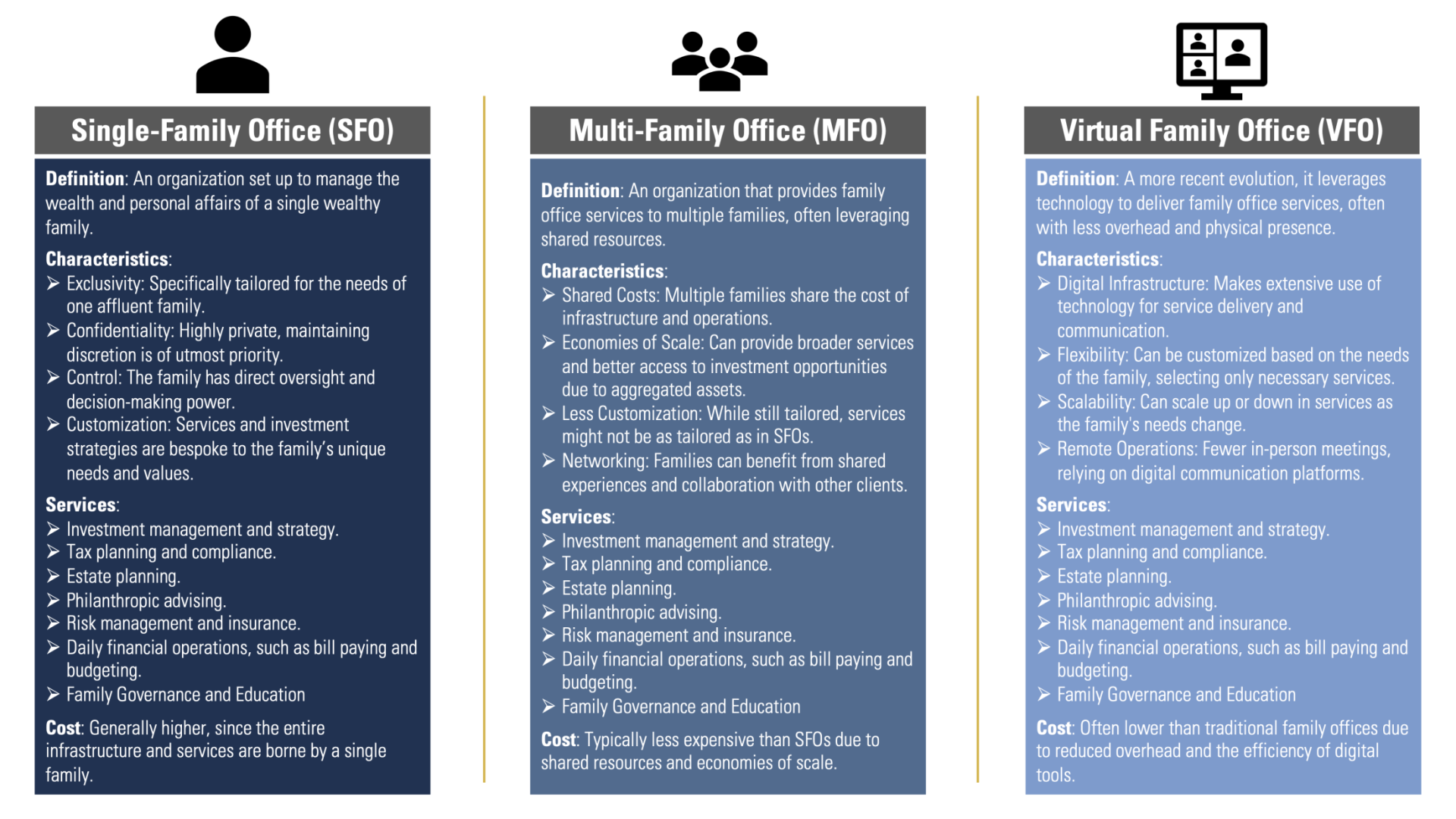 Professionalism
Central to professionalism is the adoption of best practices. With the growth in single-family offices and the considerable attention they are garnering from wealthy families (and from providers, consultants, and academics), efforts are being made to benchmark what is going on in the world of single-family offices to help identify best practices. Organizations such as FOX produce benchmarks and research on best practices, as well as a network, for family office executives and wealthy families.
In their 2023 book Wealth 3.0, James Grubman, Kristin Keffeler, and Dennis Jaffe point out particular ways in which the family wealth industry can further its professionalism through more rigorous and interdisciplinary research into the impact of today's best practices. Furthermore, creating a framework for collaboration in which family offices could integrate perspectives from psychologists and philosophers, as well as economists and business management experts would create family offices that better align to family's needs.
Critical Best Practices
The Family is the Client
Relationships are Key
Outsource Strategically
Leverage Talent
Family Office Best Practice No. 1: The Family is the Client
At one time, many family offices were really consisting of a "most trusted advisor" along with a small financial team that exclusively communicated with the family patriarch or matriarch. The wealth-holders views on matters often set the agenda, irrespective of the views of others who were intimately involved in and benefiting from the family office. Today, the best practice for executives and advisors is to consider holistically the family ecosystem. In other words, the client is not just the controlling family member(s), but the whole family.
Today, the stakeholder concept considers not only those who control a system, but also those impacted directly or indirectly. In the family office space, who the stakeholders are can vary. Some wealthy families think in terms of dynasties, in which case members of different generations become major stakeholders. Employees or external experts hired by the families may also be stakeholders. Additionally, the family may consider the broader community to be a stakeholder and become involved in philanthropic efforts.
All these different stakeholders have their own self-interests-and when the senior executives running the family offices develop a deep understanding of those self-interests, they can help promote better harmony. The result should be a higher level of professionalism and performance—a result that supports the flourishing of the individual family members, the family itself, and the broader community.
Takeaway: Today, families should expect their advisors to provide a deep discovery that invites the family to discover who all the stakeholders are. They should also lead a discussion on the family's values and the way in which the estate planning, financial planning, and family governance planning will support these.
Family Office Best Practice No. 2: Relationships are Key
Open lines of communication, a willingness to understand other people's viewpoints and a desire for family cohesion are all essential elements to keeping the family office running well. A strong family governance and education program seeks to strengthen the relationships between family members, and between the family and the family office staff. This might take the place of education plans for the rising gen, facilitating family meetings, drafting a family constitution, or engaging in conflict resolution.
Takeaway: Family legacy and family harmony are topics that more wealth managers are able to address today than in the past. Many wealth managers have seen how the best practice of smart family management adds value to clients' lives, and they're adopting these methods too.
Family Office Best Practice No. 3: Outsource Strategically
As family offices become more professional, their ability to be ever more responsive to wealthy families increases. This entails putting systems and processes in place to ensure more effective responses, resulting in the delivery of consistently high-quality results.
There are a number of ways this plays out, including strategic outsourcing. Outsourcing provides the ability to effectively manage. This takes a number of forms, from in-depth due diligence to negotiating preferential arrangements.
The increase of outsourcing among family offices could potentially lead to siloing of information and a reduced cohesion among the team. A differentiator of success lies in the new role of the family office executive as the "quarterback." In this role, the executive integrates among different lines of services and maintains a personalized feel to the family office.
We have found that structuring the family office as a private family trust company (PFTC) enhances the ability of the family office to effectively integrate 3rd party service providers. The PFTC serves as a chassis for the family office, allowing family members, staff, and other advisors to collaborate.
Takeaways: While outsourcing can increase the efficiency of your family office, be sure that you have a "quarterback" who can integrate all the different services. Additionally, consider an organizational structure, such as the private family trust company (PFTC) that is built for collaboration.
Family Office Best Practice No. 4: Leverage Talent
The ability to attract and incentivize the most capable professionals is crucial to the high­ performing family office. We see that wealthy families are becoming more discerning about whom they engage. They want people with expertise (of course) as well as the ability to work extremely well with all the stakeholders and align all the various self-interests of the groups. In today's family office qualitative skills are becoming as important as quantitative skills.
Takeaways: More multi-family and virtual family offices are able to access high-quality talent that once may have been available exclusively to the very wealthiest families. We see more family offices putting a lot of effort into building family cohesiveness­ both to maximize the effectiveness of family wealth over time and to avoid conflicts that can damage that wealth.
The Bottom Line
The increased professionalism in family offices is spreading to wealth management practices that serve affluent clients who haven't yet achieved the wealth needed to enter the traditional single-family-office arena. This is enabling those wealth managers to bring services and expertise to clients who have not had access to them in the past. Moreover, services have evolved, and now a focus on relationships, legacy, and long-term floruishing of all stakeholders is a standard best practice.